My background
Walloon politician
President of the House of Representatives
Municipal Councillor of the City of Namur
Who am I ?
Born in Namur, I spent my early years in the heart of the city ; my parents lived in a small flat on the boulevard along the railway. I remember the narrow garden and the noisy passage of the trains arriving at Namur station. I enjoyed picking the fruit and sitting on the lawn watching the ladybirds, butterflies and other insects.
Very willing and independent, I sometimes challenged my parents' choices. I even tried to run away at the age of 3! I had wrapped my favourite teddy bear in a dish towel to take it away... I couldn't get very far because I wasn't high enough to reach the door opener! This did not prevent me from fearing the great Saint-Nicolas. My parents quickly found it wiser to explain the reality of this story to me to put an end to my nightmares.
When my little brother was born, we moved to a house in Champion, my grandparents' village where I still live today. A little sister soon joined the family, much to our delight. The owner of the house being a carpenter, I often visited him to watch the precision of his work and try to recognize the wood species. The smell of sawdust is engraved in my memory, as is that of honey fresh from the beehive, as he was also a beekeeper.
---
As far as schooling is concerned, I was lucky enough to be able to walk to the school located nearby with my neighbours, pure happiness! As a studious student, my nursery, primary and secondary school years went off like a charm. I had free time for sports, including swimming and tennis, as well as youth activities and camps. I learned to play the classical guitar. Solfeggio and conservatory were the rhythm of my life for some years.
Attracted by language learning and the discovery of other cultures, I immediately chose to study translation at the Institut Supérieur des Traducteurs et Interprètes (ISTI) in Brussels, now a department of the Université Libre de Bruxelles (ULB). The subject of my dissertation was linked to a phenomenon that has grown enormously since then: "Kraken en computers", in other words, computer hacking. A few professors made a particular impression on me, including Jacques Rifflet, he was journalist and lawyer. He impressed me on questions of international law and politics.
---
After graduating, I joined the teaching profession as a temporary replacement for a language teacher. It was a great experience in a technical and vocational institute. Then I got a job in a bank, worked as a secretary-translator at the European Committee for Standardisation and finally, having passed a recruitment competition organised by Selor, I took up a post in the human resources department at the SWDE.
Wishing to deepen my knowledge of law, financial and budgetary management, I started a year of accounting in evening classes and then a master's degree in public management at Solvay. This was a demanding but rich experience in terms of exchanging knowledge on management and contacts with the entrepreneurial world. In the meantime, I became a mother of two children. My worst memory of that time? A Saturday at the beginning of the summer, spent running from one room to another to take the five oral exams on the same day... It was a real hassle to deal with the hours and the multitude of subjects. And the best part? Having to juggle my professional, student and family life, my efforts were crowned with success by obtaining this Master's degree in public management.
---
My professional life at the SWDE has taken me successively to Brussels, Verviers, Namur, Charleroi and then back to Verviers. A real commuter rhythm, and I guarantee you that the train delays are not a legend...
The contacts with local elected officials during my professional activity - yes, water is a communal competence - led me to better understand the importance of politics and its influence on society. Even then, I would have liked to find more women on the electoral lists to vote for... That's when I proposed to register. I was immediately elected to the Province. This first mandate gave me the opportunity to become involved in the "culture" committee of the provincial council. It was during this period that I became interested in Félicien Rops, an artist from Namur who now has his own museum in Namur, his city.
---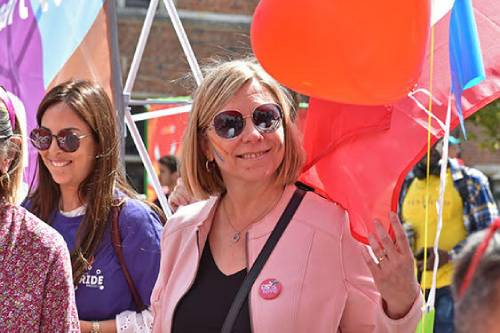 Namur is my city, "mon Namour". Elected to the Municipal Council in October 2006, I then became the group leader of my party in the capital of Wallonia. When I became President of the House of Representatives, I decided to leave the position to devote myself fully to this new challenge. I am still a local councillor today.
My investment in politics went from strength to strength. First as a candidate in the federal elections and then in the regional elections, I was elected as a Walloon MP in June 2004. My work then focused on the environment, in particular water protection, and the budget with the exceptional Minister Michel Daerden.
Re-elected in 2009 with the best female score in my party, I joined the Walloon government as Minister of Health, Social Action and Equal Opportunities. I wanted to keep a record of this wonderful experience by publishing a book entitled "Saisir sa chance" (Seize your chance): a series of testimonies and dialogues with remarkable people involved in these competences.
---
In 2014, I became Walloon Minister for Employment and Training. I brought about an unprecedented reform of employment aids, simpler and more effective, and made the revaluation of work-linked training a priority, a real job-creating sector.
In 2017, I prematurely returned to the benches of the Walloon Parliament following the unprecedented fall of the government due to a "pull-out" of the plug, as some would say...
In 2019, I decided to take the federal list of Namur and I entered the House of Representatives. Another perspective, new subjects and a place full of history. It is in the Health Committee that I like to bring the files in the context of the health crisis linked to Covid-19. I am working on legislation such as the proposals on euthanasia or to make the conditions for voluntary termination of pregnancy more flexible in Belgium.
---
It took almost 500 days to form the federal government, which took office in October 2020.
I become the first woman President of the House of Representatives.
Since the creation of Belgium in 1830, 51 men have succeeded each other in this position, it was time for the 52nd card to be different.
I am happy and proud to be able to break with the lineage and to set an example so that other women will now dare to aspire to the highest positions of responsibility in our country. Obviously, the fight against all forms of discrimination and, in the first place, the fight for equality between men and women are among my priorities, as well as the preservation of the environment and sustainability, citizen participation and openness towards Europe.
What a wonderful challenge…
---
Some pictures ...